The Artist as Craftsman


"I enjoy the chemistry and technology of picture making. It's hard to say which medium I like best."
Edward Glannon
Oils
Deeply interested in the permanence of artworks, Glannon ground his own oil paints. He spread powdered pigment onto a large marble palette, a remnant from an ice cream parlor. Pouring linseed oil from a cruet into the pigment, he then ground this grainy mixture with a glass grinder until it became smooth -- hard physical work that he enjoyed. Finally, he scraped the paint off the palette with a palette knife, put it in a metal paint tube, and clamped the end.
As children, we remember a large glass jar sitting in the sun on the roof of our house, filled with linseed oil and covered with gauze. Evidently, exposure to the sun purified the oil for use in his paints.
Watercolors
Glannon used a wet-in-wet technique for his watercolors. He said that the process for each painting varied with the needs of the painting. He first made tonal and color studies. When doing the actual painting, he wrote, "there needs to be strong identification with the brushes, paint and paper." The actual watercolor painting was done quickly.
Lithographs
"All of these lithographs were made on antique printing stones, and I printed all of the editions myself on a nineteenth century type of scraper bar press. It sounds nostalgic, but it is not. It is just a part of an artist's struggle to keep in touch with some of the values that he believes to be timeless, and as important now as ever."

Edward Glannon
Frames and Panels
Glannon painted on untempered masonite panels mounted on a wooden frame. He joined the backing frames for his panels using dowels and glue rather than nails, and glued the masonite to the frame. He meticulously prepared the surface by applying multiple layers of gesso to provide a smooth ground for the painting.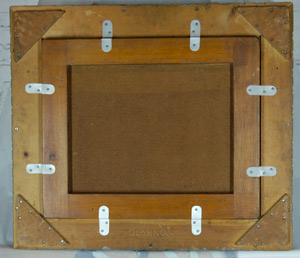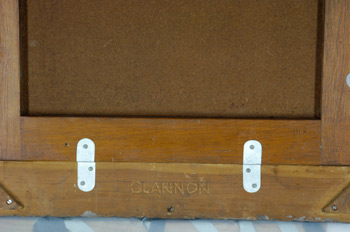 Glannon's frames were works of art in themselves. He built them himself, often using wood that he salvaged rather than bought. Each corner was hand sawn on a miter box, and joined using wooden dowels and glue. Corners were then braced with plywood cutouts glued and screwed to the back of the frame. Additional moldings were added to build up the shape of the frame. Glannon carved intricate designs in many of his frames. He mounted each oil painting in its frame using metal braces hand fashioned to secure the painting to the frame. He was building for the ages.