Welcome to The American Landscape

By Edward Glannon
For more than sixty years, Edward Glannon painted the American land. "I grew up in a deep and narrow Pennsylvania valley," Glannon wrote in the journal he maintained from the time he was a young man, "and I learned to love the poetry of the earth and the music of landscapes. It has motivated me all my life."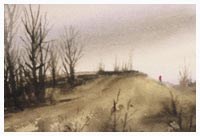 Water Color Paintings
Edward Glannon began experimenting with watercolor in his late forties. He came to love the medium, and over the succeeding years he painted watercolors depicting all aspects of the American landscape.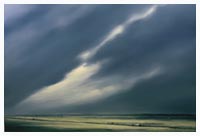 Oil Paintings
Edward Glannon painted oils from the beginning of his career. He cared deeply about the craft of oil painting. He ground his own colors, painted on panels he built himself, and constructed and carved frames to match individual paintings. His oils reflect his reverence for the American land – and the skies above it.

Lithographs
Edward Glannon took up lithography in his sixties. He bought a press, and etched and printed all editions himself in his studio. His lithographs, like his oils and watercolors, depict all areas of the country and reflect his enduring reverence for the American landscape. Glannon's lithographs may be purchased through The Old Print Shop, Lexington Avenue, New York. They may be viewed on the Old Print Shop's website, Click here to review Lithographs
ED GLANNON- AMERICAN PAINTER from Robert Bell " Green Birdie Productions"
on Vimeo. Robert Bell website http://www.greenbirdievideo.com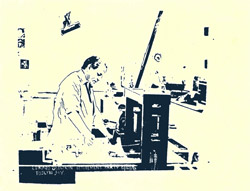 Edward at his press
Collections
Adirondack Museum, New York
Albany Museum of Prints & Printmaking, New York
Allen Memorial Art Museum
John Jacob Astor Collection
Marianna Kistler Beach Museum of Art, Kansas State University
Bates College Museum, Maine
Benjamin Van Ralte Collection
Birmingham Museum of Art, Alabama
Bone Creek Museum of Agrarian Art, Nebraska
Cedar Rapids Museum of Art, Iowa
Columbus Museum of Art, Ohio
Coutts Museum of Art, Kansas
Dennos Museum Center
Dubuque Museum of Art, Iowa
Everglades National Park Museum, Florida
Farnsworth Museum, Maine
Faulconer Gallery, Grinnell College, Iowa
Georgia Museum of Art
Godwin-Ternbach Museum, Queens College, New York
Great Plains Art Museum of the University of Nebraska
Iowa State University
Irish National Gallery
Jules Collins Smith Museum of Fine Art, Alabama
Midwest Museum of Art, Indiana
Mobile Museum of Art, Alabama
Montana Museum of Art & Culture
Muscarelle Museum of Art, College of William and Mary, Virginia
Newcomb Art Gallery
Oberlin College, Ohio
Paris Gibson Square Museum of Art, Montana
Radford University, Virginia
Southern Alleghenies Museum of Art, Pennsylvania
Southern Illinois University
Suffolk University, Boston
Tucson Museum of Art, Arizona
Tweed Museum of Art, Minnesota
University of Kentucky
University of Louisville
University of Northern Iowa
University of Wisconsin - Eau Claire
Numerous private collections
Exibit Catalog:
Gallery Affiliations:
The Old Print Shop, New York, NY ((2005-present)

Mortimer Leavitt Gallery (1940's)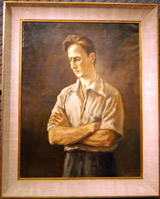 Portrait of a Young Painter, 1938
Alexander Brook (United States, 1898-1980)
In the 1930's, Alexander Brook was commissioned to paint a portrait of a budding actress, Katherine Hepburn. Edward Glannon was Brook's apprentice. The day before doing the Hepburn portrait, Brook asked Glannon to pose, and painted this portrait, called Portrait of a Young Painter. Brook willed the painting to Glannon. It is currently on loan to the Portland Museum of Art in Portland, Maine. The Hepburn portrait (which makes a cameo appearance in her movie, Woman of the Year) was stolen in the 1960's and has never resurfaced.